100% Pure Essential Oils 0.5 fl oz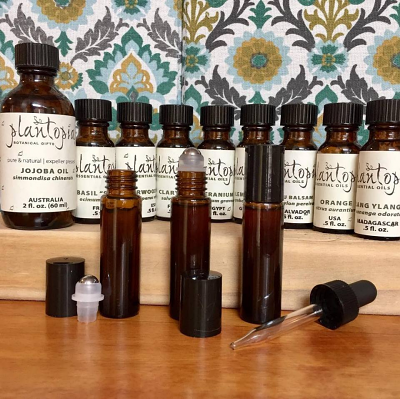 Plantopia is proud to offer their own line of 100% Pure Essential Oils. Our essential oils are steam distilled or cold pressed directly from the natural plant material and do not contain additional carrier oils or alcohols to dilute them. They are 100% Pure Essential Oils. Every effort is made to make certain that the oils we sell are sustainably harvested and produced. We package and hand label each essential oil for quality assurance. All essential oils come in brown amber glass bottles with a black phenolic cap and contain 0.5 fl oz. You will also receive one glass apothecary dropper with each bottle. We want our customers to be able to view the oils and to be able to count drops for their formulas. Each label provides the common plant name, in addition to the Latin/botanical, plant genus & species as well as the Country of Origin.
Large 10 Inch Bundle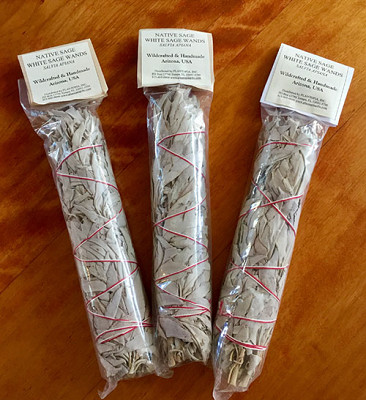 "Ceremonial Sage Bundles" Ceremonial Desert White Sage SALVIA APIANA, is a perennial that grows wild in Arizona, California and New Mexico. Sagebrush has been historically used by Native Americans for spiritual rituals, medicinal healing, cordage and basketry. The fruits, leaves and seeds are used fresh, dried or pounded into a meal. Desert White Sage is important for native wildlife and is eaten by sage grouse, rabbits, mule, deer and elk. White Sage has been studied for many uses in herbal medicine and a study performed by the University of Arizona in 1991 demonstrated that Salvia Apiana has some antiseptic, antibacterial and disinfectant properties. During cold & flu season many people believe that smudging the home can be an effective disinfectant. Traditional Smudging Ceremonies use the smoke, from burning the herb, as a way to cleanse the body, an object, or a specific area of negative influences or evil spirits. Wild Crafted & Handmade By Native Americans in Arizona, USA
Charcoal Tablets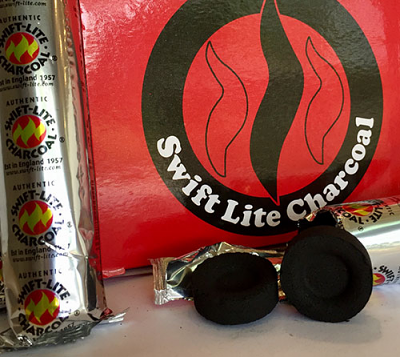 Swift-Lite Charcoal Tablets are used for burning Frankincense, Myrrh and other tree resins & various incense. They are made from natural unscented charcoal. Each package contains 10 tablets. To use, remove a tablet from the sealed roll and place in a heat proof dish. Light the edge of the tablet with a match or lighter. The tablet will begin to light across its surface. Once the flame extinguishes and the charcoal is smoldering, sprinkle the incense over the tablet allowing the ember to slowly burn and melt the resins. Never hold the charcoal tablet in your hand while lighting and never leave burning incense unsupervised.
May Peace & Calm Be With You
One 10 Pack
Heat proof
Shorea Javanica 1.5oz 42.5 G.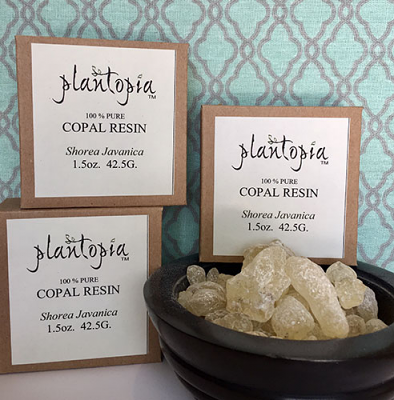 Shorea Javanica
Copal is the name given to a tree resin that is an aromatic resin used by the cultures of Pre-Columbian Mesoamerica as ceremonially burned incense. It originated in Mexico, but it now grows all over the world. The word copal is a shortened version of "copalli" which is a Nahuatl word for incense. The Mayan people referred to it as "pom" & others have nicknamed it young amber. The resin itself is also popular in East Africa. The most common use for this resin incense today is its use in ceremonies. It is used to purify objects, entrances & chosen for specific uses in ceremonies. It is also used in sweat lodges where it's commonly used to cleanse the body, mind and soul. This practice is still in use today and has been used specifically by the Native Americans as well as the indigenous people of Mexico and South America. Sustainably harvested, the resin is burned as an incense using charcoal tablets.
Wild Harvested From Mexico
Boswellia Carteri 1.5oz 42.5 G.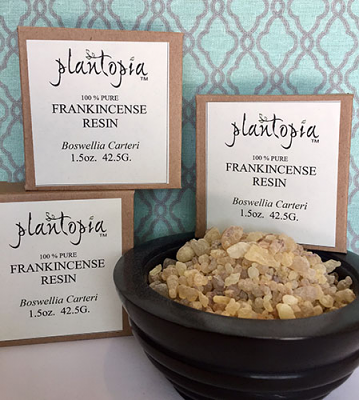 Boswellia Carteri
Frankincense has been known for its healing powers & the belief to improve communication with the Creator for thousands of years, long before it was given to baby Jesus. There are over 52 references to it in the Bible. Egyptian records show that it was used in cosmetics, perfumes & as an embalming agent. The Chinese used it as part of a treatment for leprosy. Grown predominantly on the Somali Coast & parts of the Arabian Peninsula, the resin is obtained by making a deep cut in the trunk of the tree lengthwise. Below this incision a narrow strip of bark is peeled off allowing the sap to run out, and as it touches air it begins to harden. It takes approximately three months to harden into the yellow "tears". Sustainably harvested, the resin is burned as an incense using charcoal tablets.
Wild Harvested From Somalia
Commiphora Myrrha 1.5oz 42.5 G.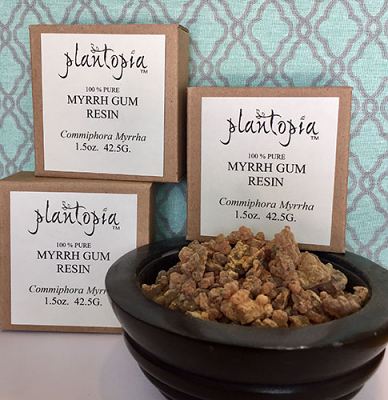 Commiphora Myrrha
With its smoky earthy scent, myrrh resin is a favorite incense of many cultures. Native to Ethiopia and Somalia, it was used by the Egyptians for cremations & embalming as long ago as 3000 BC. Myrrh is one of the key ingredients in the mythical Egyptian perfume Kyphi. It has also been used to anoint kings & scent fabrics and clothes for those traveling to holy places. Myrrh has had great monetary value throughout history. The Romans valued it as much as gold, using it as security for monetary debts. One of the 3 gifts to Christ by the Magi, the resin is obtained by making deep cuts in the trunk of the tree lengthwise. Below this incision a narrow strip of bark is peeled off so the sap will run out. Sustainably harvested, the resin is burned as incense using charcoal tablets.
Wild Harvested From Somalia